Recognition for helping prepare students with the content knowledge, skills and dispositions needed to be equity-oriented and engaged citizens
September 2022
Dear Friends and Colleagues,
Last November, my Human Rights Educators USA colleague Rosemary Blanchard suggested we submit a proposal to have a chapter in a Social Studies Educators Textbook being put together by editors Natalie Keefer and Tori K. Flint of the University of Louisiana, Lafayette.  We learned this past April that our Chapter would be included in the published textbook, and here we are celebrating this news.
Earlier this month I received my hard copy of the text, published by Lexington Books, and I'm here proudly showing our Chapter, titled The Human Rights Portal to Teaching Mindfulness and Civic Engagement. (Read the chapter here)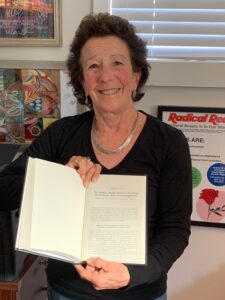 The chapter first provides a robust explanation of what human rights education (HRE) is about, how HRE is connected with mindfulness and social emotional learning, and how TWAICB brings these vital elements together to provide a meaningful educational experience that inspires students to exercise their agency as vital human beings and community participants. A good part of the chapter is devoted to TWAICB, explaining its history and curriculum elements.
The book is available via this link in both hard copy and digital format.  We are extremely proud to have TWAICB included in this textbook, that received the following as one of the reviews:
Natalie Keefer and Tori Flint have curated an important collection of work on social studies curriculum that is as relevant as today's headlines. By addressing mindfulness, they also examine the critical purposes of the social studies in contemporary life – the education of an informed, thoughtful, reflective citizenry that approaches both contemporary and enduring issues with empathy, compassion, wisdom and understanding. Indeed, while the focus is clearly on the social studies, this is a book for anyone who seeks to understand how curriculum can and should change the nature of learning. It's a must read for teachers, scholars, and thought leaders who seek to heal a divided nation and a fractured global community.

—J. Howard Johnston, University of South Florida
On a personal level this milestone is particularly meaningful.  I began my professional career as a teacher.  In my second year of teaching, after a social studies lesson on primary sources, one of my 5th grade students came up to me and said, with a broad smile, "Mrs. Sohcot, you have changed everything about how I think about the world!" These words were and always are a gift to any teacher.  What else could we ask for as to how we contribute to the lives of our students?
After leaving the teaching world, I could not have imagined all that would follow to lead me to this time with TWAICB.  This work began in 2006, during my tenure as Executive Director of the Rex Foundation, with the original production The World As It Could Be – A Declaration of Human Rights.  People involved in this production – Sarah Crowell, then Executive Director of Destiny Arts Center, and Ellen Sebastian Chang, our Creative Director, not only went on to play vital roles in developing our curriculum, but have also continued to be involved over these last 16 years.  Check out our Video Library to see examples of what has been happening as TWAICB evolves, as well as seeing all the incredible people, along with Ellen and Sarah, who have helped bring to life the power of integrating the creative arts with the framework of the principles of the Universal Declaration of Human Rights to help further mutual respect, dignity, equality and justice for every person.
Even as we all deal with the seemingly never-ending and nerve-wracking political, economic and social challenges, we look forward to doing what we can at TWAICB to help address these challenges with our in-class curriculum, enrichment rite-of-passage program, and resources to encourage community involvement and connection.  We hope all of you reading this – educators, thought leaders and caring members of the community – will feel encouraged and further inspired to utilize our materials, share them with others and continue on with our meaningful connections.
With appreciation and best regards,
Sandy Sohcot, Director
Resources to Bring the Meaning of the UDHR Close to Home