The Universal Declaration of Human Rights lays out the interdependent and interconnected nature of our rights and responsibilities as human beings. Through art, we can follow how our lives connect across generations, cultures, and geographic locations.  The story behind the famous protest song, Strange Fruit, first performed and made famous by Billie Holiday and written by Jewish American songwriter Abel Meeropol*, illustrates the connections between different types of art, industries, and movements in history.
A few years ago, there was a discussion about this song and its history at one of our teacher and organizational leadership trainings. At that time, there was a heated debate about the song's origins and history. Today, there are many resources, documentaries, and teaching guides that explore this topic thoroughly. We'll be looking at Strange Fruit with resources for both learning more about (and teaching) civil and human rights through music.
Framing Strange Fruit and the historical event that it responds to connect directly to Universal Declaration of Human Rights, Articles:
1: Right to Equality
2: Freedom from Discrimination
3: Life Liberty & Personal Security
5: Freedom from Torture and Degrading Treatment
6: Recognition before the Law
7: Equality before the Law
8: Remedy by a Competent Tribunal
9: Freedom from Arbitrary Arrest & Exile
10: Right to Fair Public Hearing
11: Right to be Considered Innocent Until Proven Guilty
The People Who Created the Music
The Strange Story Of The Man Behind 'Strange Fruit' (NPR, September 5, 2012)

In the late 1930s, Pellison says, Meeropol "was very disturbed at the continuation of racism in America, and seeing a photograph of a lynching sort of put him over the edge."

Meeropol once said the photograph "haunted" him "for days." So he wrote a poem about it, which was then printed in a teachers union publication. An amateur composer, Meeropol also set his words to music. He played it for a New York club owner — who ultimately gave it to Billie Holiday.
Billie Holiday, born April 7, 1915 in Philadelphia, Pennsylvania, was a superstar of her day. She first rose to prominence in the 1930's with a unique style that reinvented the conventions of modern singing and performance.
In the 1930's, during her epic run at Barney Josephson's Cafe Society in Manhattan, she was introduced to the poem "Strange Fruit," a horrific depiction of lynching in the Southern United States. The music was written just for Billie and it became the hallmark of her concerts. It's considered by scholars to be the first protest song of the civil rights era. The lyric was so controversial that her record label wouldn't record it. So she jumped over to the independent Commodore Records where she could record and sing as she pleased. "Strange Fruit" immediately became a cultural spark-point and a hit record too.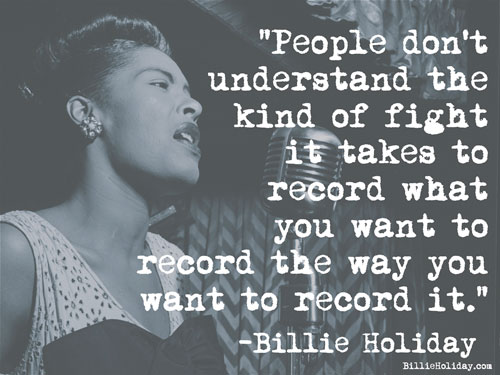 From Billie Holiday to Andra Day, Strange Fruit has brought attention to this subject through its poetry and musical expression:
Southern trees bear a strange fruit
Blood on the leaves and blood at the root
Black bodies swinging in the southern breeze
Strange fruit hanging from the poplar trees
Holiday was initially worried about singing "Strange Fruit" live, fearing for her safety (and career backlash) but its impact was so profound when it was performed every night that she had to move it to the end of the show – nothing could follow it. 
PBS | Independent Lens: Strange Fruit
Released in 2002:
The film tells a dramatic story of America's past by using one of the most influential protest songs ever written as its epicenter. The saga brings us face-to-face with the terror of lynching as it spotlights the courage and heroism of those who fought for racial justice when to do so was to risk ostracism and livelihood if white – and death if black. It examines the history of lynching, and the interplay of race, labor, the Left and popular culture that would give rise to the civil rights movement.

While many people assume that the song "Strange Fruit" was written by Holiday herself, it actually began as a poem by Abel Meeropol, a Jewish schoolteacher and union activist from the Bronx who later set it to music. Disturbed by a photograph of a lynching, the teacher wrote the stark verse and brooding melody under the pseudonym Lewis Allan in the late 1930s. Meeropol and his wife Anne are also notable because they adopted Robert and Michael Rosenberg, the orphaned children of the executed communists Julius and Ethel Rosenberg.
PBS | Independent Lens: Strange Fruit: A Song Born of Protest
Background essay & discussion questions (Grades 9–12)
Discussion Questions:
Based on what you heard and saw in the video, what do you think the line, "Southern trees bear strange fruits," in the song Strange Fruit, means?
How does the video illustrate the message of Strange Fruit? Explain your answer.
How was the song Strange Fruit used in the anti-lynching movement? Was it successful? Do you think it had an important impact on the Civil Rights movement? Why or why not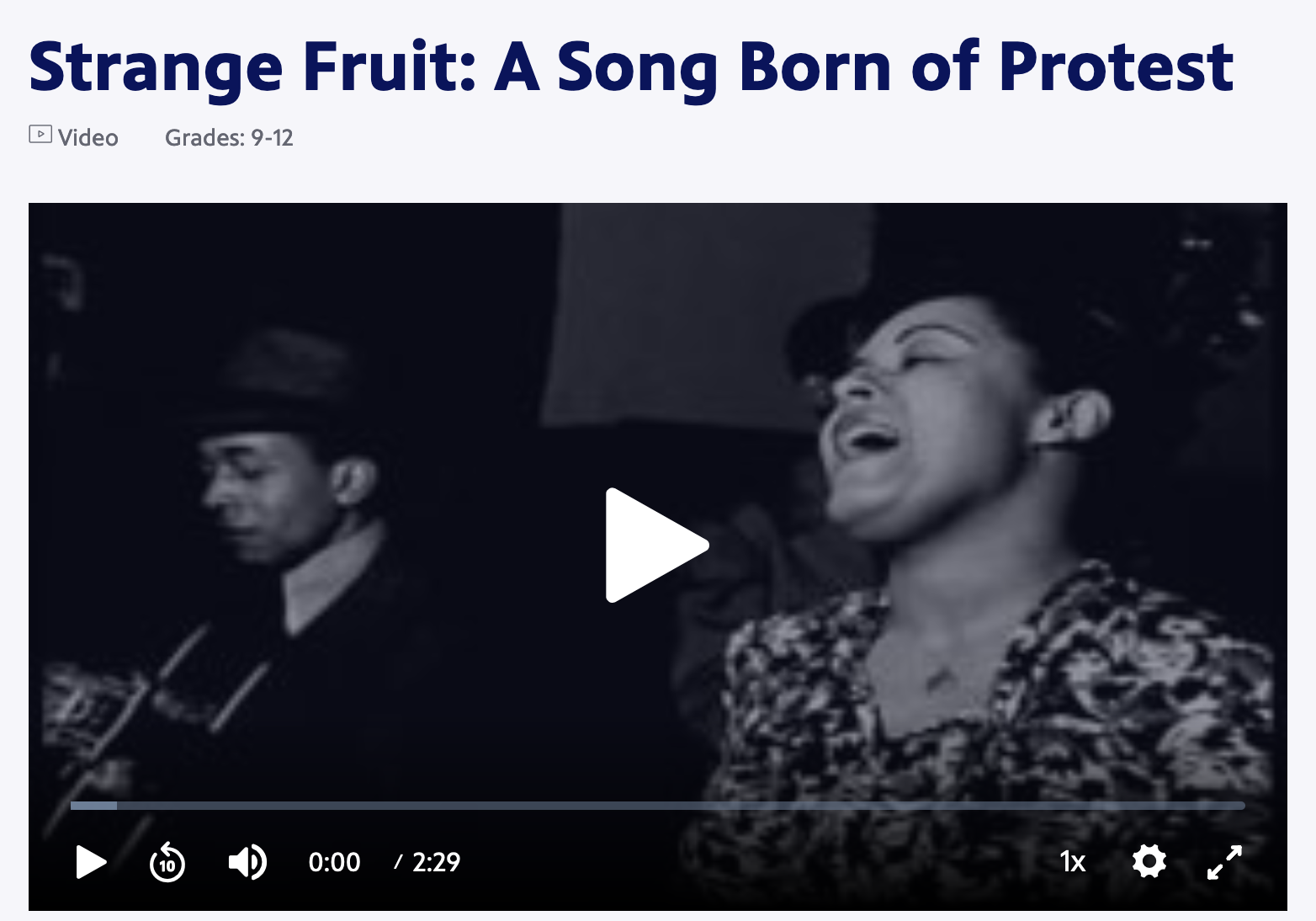 PBS | Independent Lens: Abel Meeropol, Billie Holiday and A Song Born in Protest
Background essay & discussion questions (Grades 9–12)
Discussion Questions:
Who was Abel Meeropol and what inspired him to write the poem Strange Fruit?
In this segment, what does Abel's colleague mean when she says, "This was the kind of thing that when you heard, you couldn't applaud at first, it was just so, so gripping"?
Why was the collaboration between Billie Holiday and Abel Meeropol unique in the 1930s?
One of the most powerful protest songs of the 20th century, "Strange Fruit" is part of a long tradition of American protest music as old as the nation itself. In harmony with the First Amendment's guarantee of freedom of speech, music has long been an expression of faith, freedom, peace and justice. Throughout American history, songs have cried out against inequality, poverty and war, and in support of workers, civil and human rights.
Teaching & Learning Resources