Gaining more perspectives on being human
December 22, 2022
Dear Friends and Colleagues,
On December 9th Natalia Anciso's 2nd graders got on stage to read out their first set of poems to an audience of other second graders and family members, followed by enjoying some treats and celebrating their accomplishments.  This occasion marked a milestone in our collaborative project called I Am Me And I Am Part of Us, that Natalia and I, colleagues since 2011, developed.  With this project, elements of TWAICB curriculum complement Ms. Anciso's Social Emotional Learning and Social Studies teaching objectives to help students learn about respecting others and valuing their own personal stories.  The students are writing poems about who they are as people, and by the end of March 2023 will have considered what it means to be part of a greater community, using creative writing and visual arts to help express their ideas, all of which will be put into a book that the students will receive at their full culminating presentation.
Here is one of the student's poems, as written in Spanish, along with its English translation: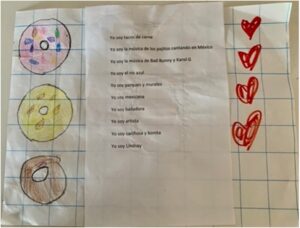 I am carnitas tacos
I am the music of the birds singing in Mexico
I am the music of Bad Bunny and Karol G
I am the blue river
I am parks and murals
I am Mexican
I am a dancer
I am an artist
I am loving and beautiful
I am Lindsay
Watching the students, all dressed up for the occasion, be both nervous and shy about speaking into the microphone, and then excited and proud of all of their efforts, as they were hugged by proud family members, I felt that this was an example of the sheer essence of being human – to want to do the work, to feel a part of something bigger, and to be seen, valued and loved.
This same Friday marked the 16th anniversary of our very first presentation The World As It Could Be: A Declaration of Human Rights, that launched the development of our curriculum and all that has followed.  The impetus for this work was the newsletter Perspectives on Being Human that was published while I was ED of the Rex Foundation.  I wanted to help explain why the Rex Foundation made grants to support programs in so many different areas, whether helping the environment, strengthening communities or furthering the arts and education.
In these past 16 years I've deepened my appreciation for how an understanding of human rights principles as represented by the UDHR and all the treaties and policies the document has helped inspire, can strengthen our personal sense of being human and why this matters in places closest to us – those small places close to home, as articulated so well by Eleanor Roosevelt.  Most recently, when I've enjoyed interacting with the Cesar Chavez students to read them stories each week, and I receive their hugs and thank-you's, I am once again reminded that how we demonstrate and nurture care, respect, dignity and joy for each other is what results in feeling and experiencing the best qualities of being human, that then hopefully generate positive ripples for others.  This simple sounding formula is certainly not easy, challenged by the many complexities presented in our daily lives.  Yet, as you can see via our Video Library, in the expressions of so many of the youth and adults who have learned about the UDHR, the human spirit to seek equality, equity, justice, respect and dignity for all, is strong and thriving.
Thank you for being part of TWAICB over all these 16 years!  We wish you and yours the best of this holiday season and look forward to all that we can do together in 2023.
With appreciation and best regards,
Sandy Sohcot, Director
Featured Resources
Connecting to the themes presented in this newsletter, here are some additional resources.