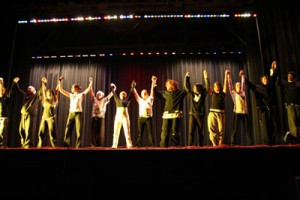 Ten years ago, The World As It Could Be was born in a dramatic performance at Balboa High School in San Francisco. We recently had a chance to gather with some of the participants and listen to their reflections, and we're happy to be able to  share them with you.
We're also delighted to announce that Balboa High School will be presenting its annual Human Rights assembly with a new dramatic performance created by the students — and to invite you to join us on campus December 8 as part of the celebration. 
Date and Time:
Thursday, December 8th, 11:20 a.m.-12:50 p.m.

Pizza and beverage reception to follow in the Green Room

Location:
Balboa High School Auditorium

1000 Cayuga Ave.

San Francisco, CA 94112

Enter at the front of the school for sign-in and directions to the Auditorium.
Download the invitation with map and details.