TWAICB Director Sandy Sohcot reports:
Here's the Future Leaders of Social Change class at Arroyo High School, with teacher Kay Zimmerman, just after their great Town Hall presentation on December 20.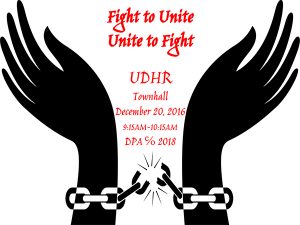 The theme, as shown on their performance t-shirts, is Fight to Unite – Unite to Fight. The performances focused on standing together to take positive action toward justice, with a number of segments covering equal pay for equal work.  
The students thoughtfully called for seeing all people as humans, and to realizing the importance of standing up for others.